PROFESSIONAL LEADERSHPE SERIES
Show/Hide Details
Apr 13,2016 - Time: 6:00 pm - 7:30 pm
On Wednesday, April 13, 2016, SHPE San Diego is excited to be hosting our first Professional LeaderSHPE Series session!  Our guest speaker Albert Alfaro, SHPE National Board Member and retired Boeing executive, will be presenting his leadership session, Positioning Yourself For Advancement. The County of San Diego has graciously provided us a conference room at their County Operations Center in Kearny Mesa to host our session. Light refreshments will be provided and the event is FREE. You do not need to be a SHPE member to register. Registration deadline is 12 PM Tuesday, April 12, 2016 This event is open to professionals, graduate students, and graduating seniors. Tentative Agenda 6:00 PM – 6:15 PM: Registration, Networking, & Refreshments 6:15 PM – 6:25 PM: Welcome & Introductions 6:25 PM – 7:30 PM: Positioning Yourself For Advancement  
About Positioning Yourself For Advancement:
In your profession, there are certain skills and strategies you will have to execute to be able to effectively advance your career. Come learn these proven strategies as used by Albert Alfaro as he climbed the ladder to become an executive at Boeing Satellite Systems.
About Albert Alfaro: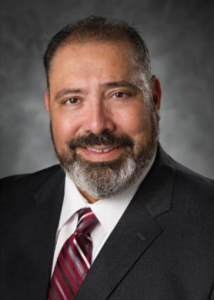 Albert Alfaro retired from Boeing Space & Intelligence Systems in November of 2013 as the Director of Spacecraft Products. For 9 years before that he was the Director, Systems Integration, Test & Launch. From 2008 until his retirement he served as Boeing's executive sponsor for the Society of Hispanic Professional Engineers (SHPE). He has more than 33 years of satellite I&T experience. A proud Tejano from San Antonio. He plays harmonica and sings in the St. Agatha Gospel Choir. He joined SHPE's Board of Directors in January 2015 and is a lifetime member.

---
Location
County Operations Center
5500 Overland Avenue
San Diego, CA 92123
Registration is closed for this event.
For more information or questions, please email:
[email protected]
For any problems, send an email to
[email protected]
with the name of the event.
Registration is a 2-step process. First click the "Submit" button and then click the "Confirmed" button on the second page. You will receive a confirmation email upon successful registration.
For paid events, online payment can be made after registration is complete.