APRIL GBM AND TOUR AT VIASAT
Show/Hide Details
Apr 22,2015 - Time: 5:30 pm - 7:30 pm
On Wednesday, April 22nd, 2015, ViaSat will be hosting our last general body meeting and facility tour of the year. They will be providing a tour of their Production Facility and Satellite Systems demo room. Join us to learn more about ViaSat's career opportunities, the Satellite Communications Industry, and SHPE San Diego's student chapters and upcoming events! This event is open to Professionals, Students, and Guests. Registration deadline is Sunday, April 19, 2015 To accommodate travel time from San Diego to Carlsbad, attendees have the option of registering for the tour (5:30 PM) and meeting or just the meeting (6 PM).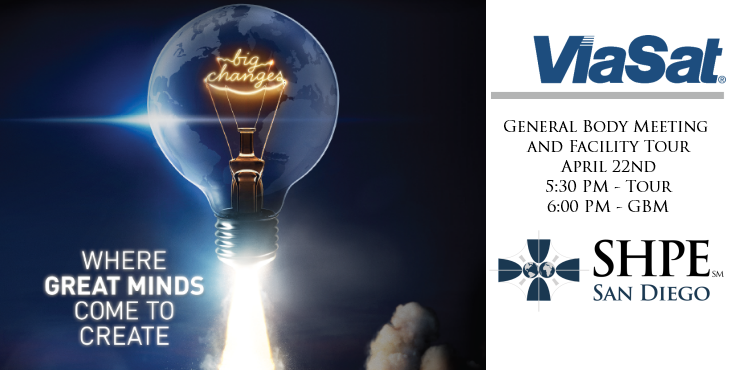 Tentative Agenda 5:15 PM – 6:00 PM: Registration 5:30 PM – 6:00 PM: Facility Tour 6:00 PM – 6:10 PM: Refreshments 6:10 PM – 6:40 PM: ViaSat and Satellite Communications Overview 6:40 PM – 7:30 PM: SHPE Announcements & Updates

ViaSat specializes in engineering creative ways to connect people to communication applications that improve their productivity, quality of life – and even safety – when terrestrial networks are not practical, cost effective, or able to provide a high-quality service. We provide consumer, commercial and government customers with communications services and systems that exceed expectations for performance, anywhere in the world. With intelligently optimized services, integrated systems, and groundbreaking technology, we deliver seamless communications that meet unique demands. Learn more at www.viasat.com.

---
Location
ViaSat
6155 El Camino Real
Carlsbad, CA 92011
Registration is closed for this event.
For more information or questions, please email:
[email protected]
For any problems, send an email to
[email protected]
with the name of the event.
Registration is a 2-step process. First click the "Submit" button and then click the "Confirmed" button on the second page. You will receive a confirmation email upon successful registration.
For paid events, online payment can be made after registration is complete.